Eleanor Alice Burford Hibbert
|
Home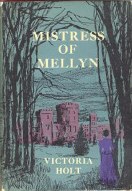 Mistress of Mellyn
1960
As the train carried Martha through the wooded hills of Devon, she could not help feeling a deep sense of foreboding. For a Victorian girl alone in the world, being a governess was the prescribed formula, but Martha was a high-spirited, attractive girl, and she hated the very idea of it - particularly when she heard of the strange mysteries that shrouded her now home at Mount Mellyn.
Her anxiety grew when she first saw the cold, brooding house set high on the Cornish cliffs, facing the sea. And when she met her arrogant employer, Con TreMellyn and his precocious, resentful young daughter, Alvean, Martha realized why three governesses before her had left the eerie mansion.
The neighbors and servants were eager to give hints and half-confidences - of strange accidents, infidelity, and death. It was only her growing love for the troubled Alvean, and an unwilling attraction to Con TreMellyn that quickened her resolve to stay on and try to unravel the mysteries which encompassed their lives - a determination that was to put her own life in danger from a totally unexpected direction.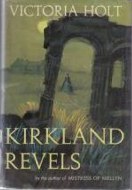 Kirkland Revels
1962
Kirkland Revels loomed high above the wild and eerie Yorkshire moors like a brooding stone fortress. To some there was an atmosphere of evil about the place, but to an innocent young bride like Catherine, the huge ancestral mansion seemed magnificently romantic
She did not know then of the terrible dearets imprisoned behind its massive walls - or that from the moment she entered her new home she had crossed a threshold of terror.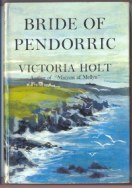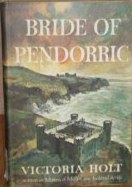 The Bride of Pendorric
1963
When Favel Farrington met Roc Pendorric on the Italian island where she lived with her father, they fell deeply in love, and there was no reason to suspect that they would not live happily ever after. Then Faval's father was drowned while swimming, a circumstance that was as puzzling to Favel as it was heartbreaking. No one could have been more devoted during these sad days than Roc, and when he took her home to Pendorric, the ancient family home on the Cornish cliffs, no family could have welcomed her more warmly than Roc's sister, her husband, and twin daughters. In fact everyone in the house and the village was eager to meet "the bride of Pendorric".
At first the phrase amused Favel. Then she found herself looking more and more often at the portraits of two other Brides of Pendorric who had died young and tragically - one of them Roc's own mother. The very stones of Pendorric seemed to be waiting for her to slip; the courtyard seemed to have eyes. And was there speculation even in the eyes of the young twins, who watched her constantly? Did she imagine it, or was Roc curiously attentive to other women at Pendorric - and did his absence grow more frequent? Surely no legend, no evil out of the past could threaten their happiness. Surely Roc's love for her had not been pretense.
At last, in a terrifying moment, Favel can no longer dismiss as accident the strange things that are happening to her at Pendorric. She must confront the very real dangers of the present.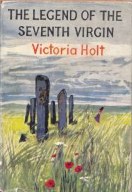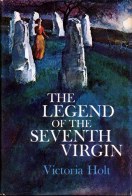 The Legend of the Seventh Virgin
1965
There was a legend that six novices and a nun living in a convent in Cornwall had strayed from their vows, and one night, in a field nearby, six were turned to stone as they danced in the moonlight in defiance of their sins, while the seventh Sister was walled up in the building.
The famous convent later became the home of the St. Larnstons, the county's leading family, whose lives soon rivaled their predecessors in haunting mystery.
Kerensa Carlee dreamed of becoming a part of that famous house, but she was a cottage girl, and the road from her humble dwelling to St. Larnston Abbas was a long one. But fate seemed to lead her to the big house, even if she had to enter it as a servant. Kerensa was both strikingly beautiful and unusually determined, and Johnny St. Larnston wanted her. Marriage and nothing less was her price. It seemed at last her dreams were becoming reality, and she saw herself gaining absolute control of the Abbas.
Suddenly her world began to crumble around her. Her husband disappeared; her childhood friend and confidante seemed no longer someone to turn to but a threat to be avoided. Only her grandmother, who had raised her from infancy, seemed steadfast in her devotion and sage advice. Kerensa began to wonder if she could escape a past that was encroaching upon her every day, or would she become like the nun walled up in the very house she had longed to own?
Menfreya In the Morning
1966
There is a legend at Menfreya that one of the early Menfreys concealed his mistress in the house and that she was killed by a jealous wife. Ever after the clock on the tower has stopped when a Menfrey is about to die.
To young Harriet Delvaney, lonely, self-conscious about her slight limp, Menfreya, standing on the Cornish coast, had always spelled happiness and excitement. It was there - with her best friend Gwennan Menfrey, high-spirited daughter of the family - that Harriet had taken refuge from her father's indifference and cruelty. It was there she had admired from afar Bevil Menfrey, heir to Menfreya and heir, too, to all the handsome charm that gave the Menfrey men their reputation as philanderers. Harriet longed to become poised, desirable, able to command his love.
At her father's death Harriet finds herself extremely rich. She has learned to cover her shyness with a witty tongue and to understand that one does not need conventional blue eyes and ringlets to be beautiful. She is, after all, a catch for Bevil Menfrey and when he does ask her to marry him her cup of happiness seems to be full. When Bevil runs for parliament, Harriet knows that she is the wife he needs, capable of helping him in his career.
But there are still whispers of the old gossip in the village. Doubts begin to invade Harriet's mind and wherever she turns she seems to meet fresh evidence of Bevil's past. Has he really reformed? And does he love her - or simply need her money for the almost bankrupt estates? How much truth is there in the legend of the Menfrey men and their mistresses?
When Bevil brings to Menfreya, as a governess, one of his former loves, Harriet - like that long ago wife - is tortured with jealousy. Suddenly the legend takes on a personal and terrifying meaning and in desperation Harriet turns to the one person she can trust . . . but is there really anyone now she can trust?
King of the Castle
1967
When Dallas Lawson arrives at the Chateau Gaillard, in the rich wine-growing country of Southern France, she is received with astonishment by the members of the household. The widowed Comte de la Talle, whose family has ruled for centuries, had summoned to his home "D. Lawson," expert restorer of old paintings, expecting a man, not this severe young Englishwoman.
Dallas is immediately captivated by the chateau, with its towers and narrow windows, its ancient moat, its dungeons and oubliette, where, centuries before, the de la Talles sent their enemies to a slow death. She is fascinated with her work of restoration, and with one exquisite painting, half obscured by dust and age - the portrait of a young woman who is wearing the family emeralds, which mysteriously disappeared during the Revolution and have never been found.
Dallas is viewed in strikingly different ways by the members of the household - by the handsome, aloof Comte, respected and feared by all; by his tempestuous daughter, deeply affected by the death of her mother three years before; by the Bastide family, who have tended the chateau vineyards for generations. And almost from the moment she arrives, Dallas begins to hear strange rumors about the Comte, and the manner in which his wife really died.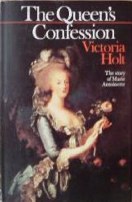 The Queen's Confession
1968
One of the best-known novelists of our day has taken the story of the most loved, the most hated - certainly the most famous - Queen in French history and written a dazzling biographical novel about her. It is a story that has haunted men's minds since the Age of Reason gave way to the Reign of Terror, and it has never been told more colorfully than it is in this memoir written as though Marie Antoinette herself had written it.
In these pages, you will respond to the innermost thoughts of Marie Antoinette as a carefree young Austrian Archduchess; as a spoiled and frivolous young Dauphine, cast headlong into the dizzying and treacherous splendors of Versailles and the French court; as a profligate, and often misunderstood, Queen; and finally, as a woman who in the face of disaster achieves an enduring and tragic nobility. The whole glittering story is here, based firmly on historical truth, and transformed by the hand of a master novelist into a moving and dramatic experience.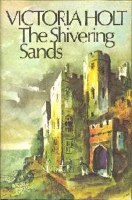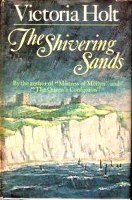 The Shivering Sands
1969
The new novel by the modern mistress of romantic suspense is set on the coast of Kent, at a great estate overlooking the infamous "shivering sands" - quicksands that have swallowed entire ships unfortunate enough to sail into them. Caroline Verlaine, a young widow, comes to work at the estate hoping to discover the cause of the mysterious disappearance of her sister, who had been studying the nearby Roman ruins. Caroling found her employers a strange family, haunted by tragedies of the past, scarred by distrust. Yet she found herself irresistibly attracted to them - especially to the family's dark, moody young scion. But not until she had retraced her sister's fatal last steps could she answer the crucial questions about the family's past - and her own future.
The Secret Woman
1970
Anna Brett is a young woman who had been raised by her strong-willed maiden aunt in a historic mansion in a prosperous English seaport. Anna seemed destined to follow her aunt's footsteps into a secure but unrewarding spinsterhood when a series of reversals led her to take a position as governess in the home of the town's richest and most powerful family. There she not only became fascinated by the mysterious shadows that lay across the family's past but also, almost against her will, fell in love with a handsome, dashing man she could not hope to marry - the illegitimate son of the family's patriarch.
The Shadow of the Lynx
1971
When Nora Tamasin arrived in Australia she found herself under the guardianship of the powerful, terrifying, but irresistibly fascinating Charles Herrick, known as the Lynx. Everyone about her appeared to be obsessed with gold, and the compulsion to search for it drove people from their homes to privation and even death. Stirling Herrick wanted it because his father did; and the Lynx himself was determined to find it because it was necessary for his plan of revenge.
Caught up in a violent world where life was held cheap - she had seen a man shot dead for attempted rape - while loving Stirling, Nora is overwhelmed, fascinated and horrified by the mighty Lynx. Unable to escape, she becomes involved in his schemes which bring her back to England and the ancient mansion Whiteladies owned by the ineffectual Sir Hilary Cardew, whose daughter Minta is his heiress.
Minta's story is a tragic one. Attracted by Stirling and the vital Nora, she does not realize until too late why they have come to Whiteladies. When understanding dawns, she begins to suspect that someone is trying to murder her and gradually learns of the link which binds her and her house to that of the Lynx and his, and that expiation for her grandfather's sin will be demanded of her.
Set in the wild Australian gold country and in a gracious English mansion, this is a story of violent emotions, of great injustice and a grudge which lasted a lifetime. It is a story of love, hatred and the unrelenting search for gold and revenge, and the effect this had on a group of people who lived beneath - and could not escape from - the shadow of the Lynx.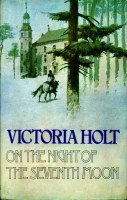 On the Night of the Seventh Moon
1972
On the night of the Seventh Moon, according to ancient Black Forest legend, Loke, the God of Mischief, is abroad in the world. It is a night for festive celebration, a night for singing and dancing, and a night for love. On the night of the Seventh Moon, Helena Trant, a young Englishwoman visiting the land of her mother's birth, found the fulfillment of her fondest dreams - and a tragic nightmare that would haunt her life until she returned once more to this land of mountaintop castles, mist-shrouded forests and enchanting legends.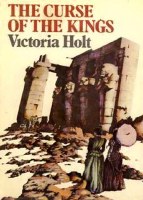 The Curse of the Kings
1973
For centuries, the Pharaohs' tombs had been haunted by a curse: Whoever disturbed the sleep of the kings would die. But surely a scientific expedition could not be hindered by an ancient superstition.
Or at least so Judith Osmond believed when she read of the curse in the quiet of rural Cornwall. An apparent orphan, she had been educated by the local squire, who encouraged the childhood interest in archaeology that would become her lifelong passion. The only stronger love she felt was for the brilliant scion of another noble family of the district - a young man who was one of the era's leading archaeologists. But both her loves seemed fated to remain forever distant. Then, through a series of unforeseen circumstances, Judith Osmond found herself with greater happiness than she had ever known - and found, as well, the strange power of the Curse of the Kings.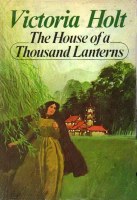 The House of a Thousand Lanterns
1974
From the moment Jane Lindsay hears of the House of a Thousand Lantern she is fascinated by it. But she never imagines she will see it, for the house is on the other side of the world, in the teeming oriental port of Kowloon.
Then her dream comes true and she visits the house, a very different person from the young girl who was first entranced by the sound of it. Now the wife of a rich art dealer, she is trying to make a new life and forget the man she loves.
But the House of a Thousand Lanterns shatters her new found peace. Beautiful, alien, menacing, it seems to be guarding a secret - a secret which Jane knows she must discover if she is to find happiness . . .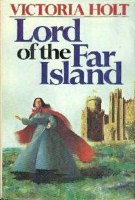 The Lord of the Far Island
1975
She was that most despised of creatures, a Poor Relation. Ellen Kellaway, orphaned at five, had been taken in by wealthy cousins, raised as a companion to their daughter - never once allowed to forget that her every advantage was owed to the charity of others.
But her life of deference and submission was changed utterly when the son of a powerful London family asked for her hand in marriage, and opened up to her a world of untold wealth and social position. It was a fantasy more wonderful than any she had ever dared to dream . . .
Why then did a presentiment of doom return again and again to haunt her? What was the meaning of the lifelong nightmare which had so often troubled her sleep - the image of an unfamiliar room, always the same in every detail, a door opening, and behind it, waiting unseen, a dreadful presence . . .
Perhaps it was a warning of the tragedy so soon to follow. Or perhaps it was a message sending her to discover, for the first time, the secrets of her long lost family - the secrets of the ancient home of the Kellaways on the Far Island, off the wild coast of Cornwall. There she would find that a past more powerful than the present was still alive in Kellaway Castle, drawing her deeper and deeper each moment into its dark mystery . . . There she would find the proud and arrogant Jago Kellaway.
The Pride of the Peacock
1976
Victoria Holt demonstrates her mastery once again in her most exciting novel set in turn-of-the-century England where a young woman grows up in the shadow of the great estate - and privileged way of life - that was once her family's birthright. But a unique inheritance compels Jessica Clavering to marry the owner of a fabled opal mine and leads her to faraway Australia. There she will discover the mysteries - and evil - surrounding the greatest opal ever found. There she must confront the danger that lust for the stone has aroused even in her own husband - and there she must find love.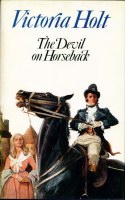 The Devil on Horseback
1977
Minella Maddox grew up on a great English estate. But as the schoolmistress' daughter, her place was not, and never could be, at beautiful Derringham Manor. And that is where the trouble started, for Derringham's young heir thought he saw in Minella just the kind of wife he wanted. But a dark and cruelly handsome French count, who always got what he wanted, thought she was just the kind of mistress he had to have. Not for nothing was he called the Devil on Horseback.
Yet Minella's humble heritage was to prove more precious that titles and riches, for it freed her to follow her heart, leading her into adventures and dangers she had never dreamed of. It put her directly in the path of another woman's hatred, swept her up into the deadly terrors of the French Revolution and, finally, carried her into the arms of the great and powerful man she loved.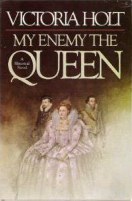 My Enemy the Queen
1978
My Enemy the Queen tells of the rivalry between two dominating sixteenth-century women - one Lettice Knollys who tells the story, related to Elizabeth through the Boleyns; the other the Queen herself.
When Elizabeth came to the throne and wished to help her relatives on her mother's side, Lettice was given a post in the royal household which brought her into close contact with the Queen. Lettice, the most alluring woman at Court, was soon noticed by Robert Dudley, the Queen's favorite, whom many believed she would have married but for the mysterious death of Amy Robsart, his wife.
When Elizabeth learned of the secret marriage, her rage was terrible. She called Lettice 'That She-Wolf' and banished her and Leicester from Court - although she soon relented in the case of her favorite and revenged herself on Lettice by keeping him always at her side.
Even Leicester's death did not end the conflict, for Elizabeth's hatred of the woman Leicester had preferred continued to burn fiercely. By a strange quirk of fate, her new favorite was Lettice's son, Robert, Earl of Essex.
The long and bitter conflict between these two women who loved the same men was not stilled even by the tragedy of Essex. It could end only with the death of the Queen, and was played out against a background of the grandeur of Kenilworth and the dazzling Elizabethan court.
The Spring of the Tiger
1979
From the theatrical world of Victorian London, to the Stately rounds of English country life, to the wild, resplendent beauty of Ceylon, this magnificent novel spins a tale of fabulous romance and dark, deadly intrigue.
Sarah Ashington has grown up in the shadow of her celebrated mother, an actress of incomparable loveliness. But scandal will end her mother's illustrious career long before its time, and Sarah will be forced to fall upon the dour mercies of two spinster aunts, who preside in somber rectitude over the ancient estate called Ashington Grange.
There, amidst the living memories of her family's past, Sarah will learn more of the father she has never known, of his strangely beckoning life in an outpost among the tea plantations of Ceylon. And she will learn, too, of the extraordinary Ashington Pearls - perhaps the most perfect and beautiful in the world. They have become over the years the stuff of legend, of wild speculation, of obsession and fear. But Sarah Ashington will hold those pearls one day - and know that the web of fate encircling them is no fantasy. For she will face herself the secret powers they summon, the brooding and dangerous passions they inspire.
The Mask of the Enchantress
1980
Suewellyn was spirited and adventurous, a true Mateland of Mateland Castle, even though she was not acknowledged as such; and when she was alone, penniless, having lost all that she loved, temptation came to her, and it was irresistible.
From her early days in the chilling atmosphere of her foster parents' home, the castle had enchanted her. Those days had been brightened by the visits of the mysterious Miss Anabel until Suewellyn was finally whisked away to a new life.
Anabel herself was caught up with the inhabitants of the castle until that day when her lover committed murder for her sake and she was forced to run away with him.
On the volcanic island which was dominated by the Grumbling Giant they all found a certain refuge from the outside world, but the island was inhabited by superstitious people who feared the great mountain and worshipped it.
Yet they were happy until Susannah's arrival. Susannah was a Mateland and where Susannah was there was disruption. She possessed an indefinable power which had its effect on all who came near her.
Disaster struck, and with it came temptation. Suewellyn assumed the mask of the enchantress. At first it seemed simple. Everything fell into place. She had found a way out of her unhappiness, and, fraught with danger though it was, it brought a new zest for living.
She did not realize that in taking on the role of the Enchantress she was going to be implicated in a story of intrigue and murder and that there would be two men to whom she would have to answer. Esmond was dead, but Garth and Malcolm lived, and it was when she came face to face with these two that Suewellyn realized how dangerous it had been to look for a new way of life in the role of another woman.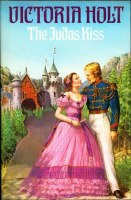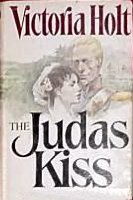 The Judas Kiss
1981
An exciting tale of intrigue in the Bavarian Alps, takes the reader to the Grand Duchy of Bruxenstein, where lovely Francine Ewell had eloped with her suitor, Baron Rudolph, heir to the throne. Left behind was her younger sister, Pippa, who must face alone the wrath of their dour grandfather, autocratic master of Greystone, the brooding manor house in Kent.
Pippa's only solace in her loneliness comes from Francine's letters, which speak of her husband's devotion, of their young son, of their intention to bring Pippa to live with them in a land straight out of a fairy tale. But the letters stop abruptly, and Pippa seems doomed to a loveless match arranged by the overbearing patriarch who heads her family. And then she stumbles upon a newspaper clipping that tells of a murder in a faraway country; the victims are Rudolph of Bruxenstein and his mysterious 'companion,' a beautiful Englishwoman.
Yet Pippa is sure that the 'companion' was her sister and that Francine and Rudolph had indeed married. She is also sure that there was a child. But no one shares her certainty, and soon she realizes that no one really cares to know. But she has to know the truth.
So Pippa sets off across Europe, bound for a passionate adventure, a romance of her own, fraught with danger, duplicity, and irresistible emotion. She sought her sister's fate . . . but she was to find her own.
The Demon Lover
1982
Kate Collison is bred to paint miniatures, like her father and generations of Collison masters. It is uncommon in 1865 for a woman to succeed as an artist, yet Kate is determined to continue the renowned Collison tradition. She does not know that her journey to France to seek fame as an artist also will shape her destiny as a woman.
Rollo de Centeville is bred to relish conquest, like his restless Nordic ancestors who once invaded France. No two people are less alike than the imperious Baron and the willful, young Englishwoman who paints his miniature. Yet nothing pleases the overbearing aristocrat more than the prospect of vanquishing a desirable woman as uncompliant as Kate.
In Paris Kate achieves her dream, renown as an artist and freedom as a woman. But is she really free? For accompanying her always is the nightmare of a Norman castle, a demon lover and the secret which forever binds Kate Collison to Rollo de Centeville.
Only the threat of death to those she loves could compel Kate to accept aid from her adversary, a much-changed de Centeville, in the hard-pressed days of 1870 when Paris is under siege. It is a fateful decision resulting in murder and salvation as two obstinate people learn powerful lessons in the forces of love.
The Time of the Hunter's Moon
1983
Legend beckons a romantic schoolgirl to await her future husband in a forest at the time of the hunter's moon. When a handsome stranger appears, Cordelia Grant wonders if she is dreaming. But time will prove this fateful encounter to be all too real and far beyond the reaches of a young girl's imagination.
Haunted by the memory of her mystery man, Cordelia begins a new life as schoolmistress at a girls' academy. In Devon she finds herself pursued by Jason Verringer, a dashing land baron with a scandalous reputation. Cordelia knows she should despise the man who, it is rumored, murdered his wife and mistress. But to her dismay, he begins to invade her thoughts - and to compete with the carefully preserved memory of the fair, handsome stranger from her schoolgirl days.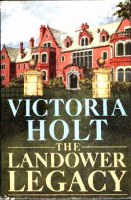 The Landower Legacy
1984
In 1887, in the excitement of Queen Victoria's Golden Jubilee, fourteen-year-old Caroline Tressidor blurts out a secret. Though it is a secret she does not understand, her punishment is swift: Her beautiful mother disappears; her father banishes Caroline to and estate in Cornwall. There, puzzled and lonely, she begins a search for understanding that takes her back to London and to heartbreak; sends her to the South of France and a romantic reunion with the man she has learned to love and fear; returns her to Cornwall, to tragedy and a desperate murderer; and ends ten years after its beginnings as she watches the plain little Queen celebrate her Diamond Jubilee.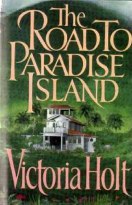 The Road to Paradise Island
1985
Raised in the English countryside by their strong-willed grandmother, lovely, vibrant Annalice Mallory and her beloved brother, Philip, have grown up with a passion for travel and exploration, stemming from the family's renowned cartography business. Since childhood, Annalice has been fascinated by the intricacies of map making - a fascination that will lead her to a startling discovery and a journey halfway around the world to mystery, peril, and romance.
In a sealed-off room in the Mallory house Annalice finds a timeworn map depicting an unknown spot of land off the Australian coast, the idyllic and gold-laden Paradise Island. With the map is a journal written a century earlier by Annalice's namesake, Ann Alice Mallory, a young woman who died under mysterious circumstances. The journal recounts a chilling tale of love and longing, thwarted by conspiracy, greed . . . and murder.
Obsessed by her ancestor's tragic story, Annalice shares her discovery with her brother, who takes off in search of the elusive island. But as time passes without word from Philip, Annalice herself - as if driven by the unfulfilled spirit of the unfortunate Ann Alice - resolves to follow the Road to Paradise Island on an adventurous quest to find her brother and uncover the truth.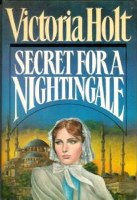 Secret for a Nightingale
1986
As a child in India, beautiful, high-spirited Susanna Pleydell first becomes aware of her special gifts to soothe the sick. But she puts aside her dream of helping others when she meets the dashing and sophisticated Aubrey St. Clare.
Only after they are married does Susanna learn of Aubrey's brooding, dangerous nature - his obsession with the occult and his weakness for opium. But most fearful of all, she discovers Aubrey's strange association with Dr. Damien Adair, a powerful figure who exerts a sinister influence over her husband. And when Aubrey's frightening behavior leads to tragedy, Susanna flees, vowing revenge on the man she holds responsible - Damien Adair.
Closely guarding her dark secret, Susanna travels to the Middle East and the Crimean War, where she begins a new life as a nurse, working beside the legendary Florence Nightingale. It is there that fate brings the mysterious Dr. Adair back into her life. And it is there that Susanna finds her desire for revenge now tempered by a baffling new emotion. Is it possible that her once unforgiving heart has suddenly crossed the boundary between hate . . . and love?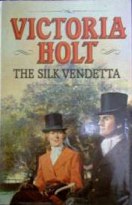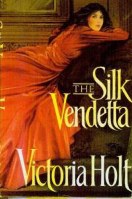 The Silk Vendetta
1987
The majestic Silk House stands as a testament to the Sallonger family's time-honored tradition of exquisite silk making. Home to the spirited Lenore Cleremont and her grandmother, who works as a designer for the legendary silk firm, the young Lenore is educated with the wealthy Sallonger children. As the girl matures, her charm and beauty win the hearts of both Sallonger sons. But Lenore cannot foresee that this exciting newfound love will bring both tragedy and peril.
For after she chooses a husband, Lenore's happy life is shadowed by a succession of violent and mysterious acts that point to an inexplicable vengeance. Fleeing, she and her grandmother begin anew as couturiers to the haute monde in Paris. The business prospers but a malevolent fate pursues her still. Born of a generations-old rivalry and nurtured by years of deceit, it threatens now to destroy all that Lenore values. Only when an ancient family feud is unraveled, and an arrogant French count reveals the dark secrets of the past, will Lenore escape forever the menace of the silk vendetta.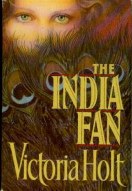 The India Fan
1988
For Drusilla Delany, the past will be a haunting presence even beyond the walls of the great Framling estate. The daughter of the local vicar, as a small girl she becomes inextricably bound to the wealthy Framling family, most especially to the two spoiled children, Fabian and Lavinia. Through them, she finds herself the unlikely heir to an extraordinary bejeweled fan made of peacock feathers. But though the fan is priceless and dazzlingly beautiful to behold, it bears a curse that promises ill fortune and death to all who possess it.
Educated in France and well versed in the ways of the world through her travels with Lavinia and Fabian, Drusilla grows into a levelheaded and practical young woman. Yet her life is still controlled by the careless and selfish desires of the Framlings, her destiny still determined by the long, dark shadow of the ancient curse. Until in India, during the bloody Sepoy Mutiny, Drusilla is witness to a brutal and shocking murder . . . a murder that chillingly echoes the legacy of the peacock-feather fan . . . a murder that will change her future - and fate - forever.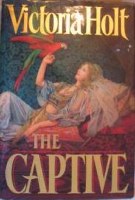 The Captive
1989
In Rosetta Cranleigh's eighteenth year, her happy if uneventful London life is suddenly shattered when her first ocean voyage ends in shipwreck off the African coast. Only the quick thinking of a mysterious young deck hand, John Player, saves her and the debonair Lucas Lorimer from the merciless rages of the sea. Adrift in a lifeboat, the three are washed up on a deserted island. As Rosetta grows closer to John, she learns his true identity - and his seemingly hopeless fate. He was accused of his stepbrother's murder and is destined to be forever a fugitive from England.
Instead of the rescue they all long for, they are discovered by pirates and taken captive Only Lucas is able to buy his freedom. With her golden sun-bleached hair and blue eyes, Rosetta is too choice a prize to let slip away. She and John are sold to a powerful Turkish Pasha. A prisoner in his harem, Rosetta is drawn into the intrigues and rivalries of the palace wives - despised by the jealous Fatima, the powerful second wife; befriended by the French-born Nicole, whose history seems to foretell her own inevitable fate. Every moment Rosetta lives in fear of the night that she will be brought to the Pasha. Every moment she hopes and schemes to escape. And escape she finally does, once again with the aid of the resourceful John.
But back in England at last, Rosetta is a captive of another sort. For she will not rest until she proves John's innocence and restores him to his rightful home. The trials she has endured only strengthen her resolve as she draws perilously close to unmasking the true killer. On the wild Cornish coast, Rosetta discovers the truth about the murder - and the secrets locked within her heart.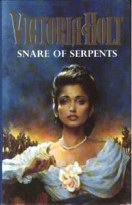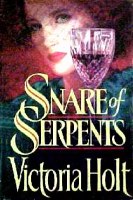 Snare of Serpents
1990
Davina Glentyre is on trial for the murder of her father. All that was once familiar and dear is now shadowed by scandal and mistrust. Her happy young life in Edinburgh had vanished is the wake of her mother's recent death. Her father seemed strangely changed. And when Davina's beloved governess was abruptly dismissed, and unlikely replacement was found - the lusty, auburn-haired Zillah Grey, who stayed to become the new Mrs. Glentyre. That was the year Davina's father died, the year in which she stands accused.
The means, the motive, the opportunity, all point damningly to the master's daughter. The ambiguous verdict of the Scottish courts - Not Proven - condemns Davina to a life of vicious rumor and innuendo. Abandoned by her fiance, with no one she trusts to guide her, Davina decides to leave her homeland.
Where better to escape the past than in the colonies of Africa? Accompanied by her former governess Lilias, Davina arrives in Kimberley, quickly coming to rely on the handsome and wealthy local businessman, Roger Lestrange, and just as quickly befriending his mysteriously ailing wife. It seems she has a chance at a new life at last. But with the outbreak of the Boer War, Davina's security again begins to crumble as she discovers that secrets thought safely buried may be resurrected again. Now, not only her reputation, but her very way of life, is at risk.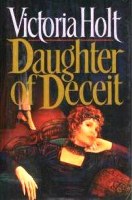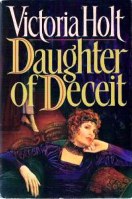 Daughter of Deceit
1991
Noelle Tremaston has led a charmed life. Daughter of the incomparable Desiree, the darling of Drury Lane, she has grown up amid a flurry of opening nights and elegant parties, basking in the fatherly affection of her unconventional mother's devoted beaux. But when kindhearted Desiree opens her home to Lisa Fennell, an adoring fan and ambitious ingenue, disaster quickly ensues, and Noelle's carefree existence is changed forever. She turns for solace to the man she loves, but the revelation of a dark secret threatens to separate them forever.
As Noelle tries to rebuild her shattered life, she meets many people who are not as they seem, from the lords and ladies of England's manor houses to the bohemian artists of Paris's Latin Quarter. Mystery, madness, and murder stalk her, until a startling and ironic twist of fate brings her tantalizingly close to the happiness she thought was lost forever.
Seven for a Secret
1992
One for Sorrow,
Two for Joy.
Three for a girl,
Four for a Boy.
Five for Silver,
Six for Gold.
And seven for a secret,
Never to be told.
It was a simple children's rhyme. Yet somehow it held the key to a tragedy that hovered over the seemingly idyllic hamlet of Harper's Green. Though sad circumstances had brought the young Frederica Hammond to her new home in Wiltshire, she held fast to hope and to dreams of a bright future. Frederica was rapidly befriended by her new classmates: Gentle Rachel Grey and Tamarisk St. Aubyn, the headstrong but somewhat frivolous daughter from the local estate. Together these three would grow to womanhood. Together these three would grow to womanhood. Together they would see the peaceful facade of their surroundings crumble under the weight of secrecy.
There was worldly, handsome Gaston Marchmont; what motives lay beyond his calculating charm and unrelenting questions? Then there was the arrogant lord of St. Aubyn's manor, Tamarisk's elder brother, Crispin. Frederica found herself drawn to this enigmatic man. But what could ever come of the strange bond between them, founded in a conspiracy of silence? And finally there was Lucy Lane and her demented sister, Flora, Crispin's one-time nannies. What unthinkable tragedy had made reality so impossible for Flora to bear? And why did a children's poem act as a constant reminder of a past that could never be revealed?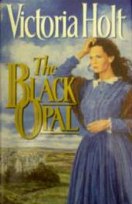 The Black Opal
1994
From the very beginning, her life had been shrouded by secrets. Found one spring morning among the azaleas of Commonwood House, Carmel March was taken in and brought up by the good Dr. Marline and his ailing wife. Questions surrounding Carmel's parentage always hung heavy in the air. Perhaps, it was whispered, she had been left by a band of passing gypsies. Ironically, it is tragedy at Commonwood that sweeps Carmel off to a life more wonderful than her ten-year-old heart could have dared to imagine. On the stately Lady of the Seas, Carmel voyages through exotic ports, halfway around the world to Sydney's majestic harbor. In Australia she settles into a happy, adventurous life, growing into womanhood with a new family, new friends and the devoted attentions of a handsome young man who dreams of making his fortune in the opal mines. Yet always she feels drawn back to the England of her youth, pursued by lingering questions about the past.
So she returns to England and to Commonwood. The once-beautiful house has fallen into ruins. Only now does Carmel realize she had been rushed away from the scene of a murder those many years ago. And the more she learns, the more she is convinced that the wrong man had been sentenced for the crime. Is the answer locked away in some childhood memory? What of her childhood friend Sir Lucian, now her latest suitor? As a boy he had been kind, open and serene. Now he appears secretive and self-absorbed, distinctly uncomfortable with questions about the past. And what fateful role might have been played by the opals, always present at crucial moments in her life? If she could indeed solve this mystery buried so many years ago, what would it mean for the future of those she so loves?