Eleanor Alice Burford Hibbert |
Home
Eleanor Burford
Daughter of Anna
1941 Herbert Jenkins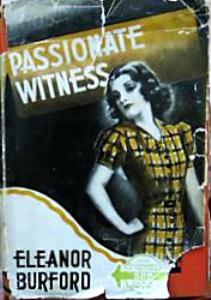 Passionate Witness
1941 Herbert Jenkins
Joanna and her engagingly irresponsible brother Richard go to Dannock for the wedding of elderly Lunt Wilmot and his young bride Isobel. While they are there Joanna meets and is curiously excited by Peter Munro, a neighboring farmer.
During a candle-lit scene in Isobel's bedroom on the eve of the wedding, Joanna realises with a shock that Isobel is not the Madonna-like creature she appears, and later, in the shadows of the darkening skating pond, she sees how deeply Richard is involved with Isobel.
How Joanna finds happiness with Peter only for it to be rudely shattered by a memory from the past, and how, stirred by a heartbreaking discovery, she determines to fight for the man she loves.
The Married Lover
1942 Herbert Jenkins
When all the World is Young
1943 Herbert Jenkins
So the Dreams Depart
1944 Herbert Jenkins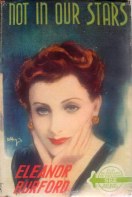 Not in Our Stars
1945 Herbert Jenkins
Dear Chance
1947 Herbert Jenkins
Alexa
1948 Herbert Jenkins
Alexa, impulsive, gay and very appealing, stands out against a vivd background of live people. There are Rollo, the passionate yet reluctant lover; Kathryn who is afraid of the past; cold Sylvester and clever Irene; gay Delia and kind Sir Frederick; Ethel who is angry with life, and Frank who is bewildered by it. The uneasy atmosphere of impending tragedy pervades the book until that breathtaking climax ehrn Alexa stands face to face with horror in the misty wood.
This is a story of laughter and thrills, of tragedy and comedy, of a great fear which was overcome by love...a fine novel that will hold the reader's attention to the last word.
The House at Cupid's Cross
1949 Herbert Jenkins
A brave and reckless girl grows into a passionate, generous woman.
Believe the Heart
1950 Herbert Jenkins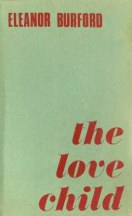 The Love Child
1950 Herbert Jenkins
This story of a passionate love and a passionate hatred centers round the lives of four people; young and lovely Maxine, generous and impulsive in love as in life, who, at an early age, is aware of some evil influence from which she cannot escape; Nick, her lover--gay, handsome and equally impulsive, seeing the whole world through rose-colored glasses, and Lorely and Harry -- the housekeeper's daughter, and the man with a past he is trying to forget.
Four people are caught in the grip of their own emotions, as into their quiet villiage the poison creeps. In their midst, living close to them, is the silent and sinister watcher, the anonymous letter-writer determined on destruction.
Eleanor Burford's latest is a novel of thrills, passion and excitement, swiftly moving, gripping and enthralling from it's opening chapters to it's unexpected yet inevitable climax.
*Thanks to Debbie for this info.
Saint or Sinner
1951 Herbert Jenkins
Bright Tomorrow
1952 Herbert Jenkins
Dear Delusion
1952 Herbert Jenkins
Leave Me My Love
1953 Herbert Jenkins
When We are Married
1953 Herbert Jenkins
Castles in Spain
1954 Herbert Jenkins
Heart's Afire
1954 Herbert Jenkins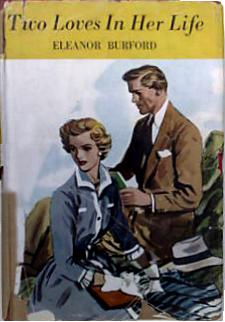 Two Loves in Her Life
1955 Herbert Jenkins
When Other Hearts
1955 Mills & Boon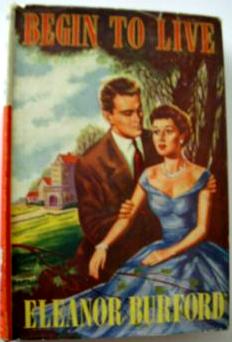 Begin to Live
1956 Mills & Boon
Married in Haste
1956 Mills & Boon
To Meet a Stranger
1957 Mills & Boon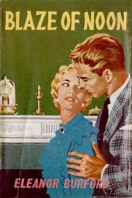 Blaze of Noon
1958 Mills & Boon
"What I want you to do for me, Philip, is this: I want you to take Lilli away from this house, away from this place, I want you to arrange for her to go to England . . . Your mother could help her as she did the girl Judith . . . "
To Doctor Philip Wayne, this last request, written by his great friend Stanislav, before Stanislav was taken away by the sevret police, was something that could not be refused. There were considerable difficulties in the way, but Philip determined to bring his friend's sister to England - even though to make it possible, he must marry her.
Back in England, there was Judith waiting, long determined that there was only one woman who would marry Philip--herself. The situation was certainly complicated if Lilli, the little cripple girl, should also fall in love with the same man as Judith.
*Thanks to Debbie for this info.
The Dawn Chorus
1958 Mills & Boon
Red Sky At Night
1959 Mills & Boon
Pride of the Morning
1959 Mills & Boon
Night of Stars
1960 Mills & Boon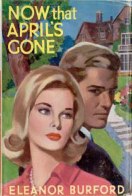 Now That April's Gone
1961 Mills & Boon
April had always been a strange person, given to self-dramatising and delighting in wielding power over others, even in hurting them. Lucinda, her half-sister, sometimes wondered if it were not the knowledge that she had always loved Simon Hammet that had induced April to marry him herself and cause Lucinda to leave home and try to forget him. Now paralysed by polio and confirmed to a wheelchair, April seemed to have taken a cruel pleasure in begging Cindy to come home again and live with her and Simon--just to watch the two of them, trying to conceal their feelings for each other and powerless to do anything about it. Tragedy was bound to come sooner or later, from such a perilous situation--which of the three would it strike?
*Thanks to Debbie for this info.
Who's Calling
1962 Mills & Boon
Anna Percival
The Brides of Lanlory
1960 Robert Hale
Elbur Ford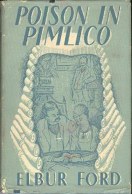 Poison In Pimlico
1950 Werner Laurie
Adelaide Bartlett's husband Edwin was one who succumbed to poison. In his case, chloroform. Adelaide's trial has gone down in history as one of the most baffling. Although poor Edwin's post-mortem revealed a large amount of liquid chloroform in his stomach, there was no trace in the mouth or throat. The central part of Adelaide's defence at her trial was the mystery of how the chloroform got into the stomach, as it is almost impossible to swallow as the unpleasant taste causes vomiting and if it had been poured down his throat while unconscious, some would have gone into the lungs and there was none found.
The Flesh and the Devil
1950 Werner Laurie
Dr. Edward Pritchard was hanged in Glasgow in 1865 for poisoning his wife and mother-in-law with antimony, and was Scotland's last public execution.
Bed Disturbed
1952 Werner Laurie
An eerie tale about Euphrasie Mercier who is the housemaid-companion of Elodie Menetret. When Euphrasie decides to let her two deranged half sisters stay for a visit, they get on Elodie's nerves and are asked to leave. Euphrasie knows that if her sisters enter the real world they will be institutionalized, so she strangles Elodie. They continue to live in the mansion, dodging any suspicion until a nosey relative pays a visit. It's not long before he figures out what has happened, but until they're caught the suspense builds to a dramatic chill. The book is based on a true story that occurred in France, when Euphrasie Mercier murdered her companion, Elodie Menetret, in 1886 to get money for her two insane sisters.
Such Bitter Business (Evil in the House)
1953 Werner Laurie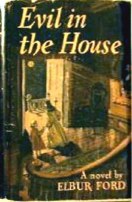 Evil In the House
1953 William Morrow & Company
Originally titled Such Bitter Business
A hundred years ago there was a girl like Constance Kent. Her hideous crime shocked the countryside and brought ruin to those who loved her long before the truth was known. From records of that old case, but with the unique advantage of the novelist, Elbur Ford has produced a startling, documentary report of murder . . . what came before . . . what followed after.
Kathleen Kellow
Danse Macabre
1952 Robert Hale
Rooms at Mrs. Oliver's
1953 Robert Hale
Lilith
1954 Robert Hale
This is a romance set in nineteenth century Cornwall and London
It Began in Vauxhall Gardens
1955 Robert Hale
A nineteenth century story based on a true crime in which a young woman is driven to murdering a man she loathes.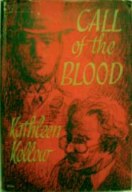 Call of the Blood
1956 Robert Hale
Based on a true crime story and the bond between two men which leads to them murdering the husband of the woman that one of them loves.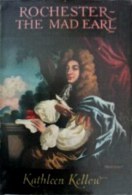 Rochester, The Mad Earl
1957 Robert Hale
This is the true story of John Wilmott, Earl of Rochester, a poet and libertine who lived at the time of King Charles II.
Milady Charlotte
1959 Robert Hale
The true story of Charlotte Walpole, an English lady, who, amongst other things, got caught up with Marie Antoinette in the French Revolution of 1789
The World's a Stage
1960 Robert Hale
The true story of the eighteenth century British actor David Garrick and his lover, Peg Woffington
Ellalice Tate
Defenders of the Faith
1956 Hodder & Stoughton
This is a powerful story of the troubleous days when Tudor succession was in dispute. The chief characters are two contrasting cousins - one daring, brave and adventurous; the other quiet, reserved and thoughtful. But each has his own kind of courage. It is set in Chelsea, Kent, and Spain, and is a vivid portrayal of a family which came to know the wrath of the Spanish Inquisition.
The Scarlet Cloak
1957 Hodder & Stoughton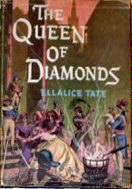 Queen of Diamonds
1958 Hodder & Stoughton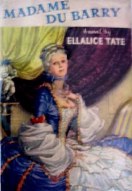 Madame Du Barry
1959 Hodder & Stoughton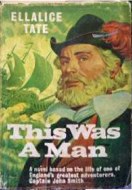 This Was a Man
1961 Hodder & Stoughton
From his earliest boyhood John Smith wanted to go adventuring over the sea, and though his parents meant him for a farmer he knew some special destiny awaited him. He followed his dream through Europe, even to fighting the Infidel and serving a cruel Turk as a slave. Yet all the time he knew that something else awaited him, over the seas yet again.
This destiny led Captain John Smith to the new colony of Virginia, "his wife, his child and his home," where he was to find joy and bitterness, fulfilment and disaster, where he was to be a distrusted Paleface and a demi-god, and where he was to be saved from death by the beautiful half-wild Pocahontas.