Bastard King Vol. 1
October 31, 1974 Robert Hale
Princess Matilda at last found the man she would marry -- William, the fierce bastard of Normandy.
Proud and fearless, the Duke had ridden into the stronghold of his enemies, dragged her by her thick golden hair into the gutter, and left with her heart. It was a love story that would change the face of history.
Battles, triumphs, revenge and jealousy crowd the dramatic yeas leading to William's fateful conflict with Harold of England and it's bitter aftermath as Queen Matilda's love for her children threatens her loyalty to William, Bastard, Conqueror and King.
Lion of Justice Vol. 2
January 1975 Robert Hale
The raging saga of Prince Henry of England, whose burning desire for the Crown was matched only by his fierce determination to defy the Church and claim the beautiful, cloistered Princess Edith as his Queen... a dazzling portrait of a man for whom countless mistresses weren't enough -- and one girl was everything.
Passionate Enemies Vol. 3
January 1976 Robert Hale
She was Matilda, the arrogant, cold daughter of Henry I. An empress, a woman who had worn out one aging husband, only to dominate her next, a mere boy, Geoffrey, first of the fiery Plantagents.
Only one man had ever mattered to Matilda, ever since childhood.
He was her cousin. He was married. He was her true love. He was her rival to the throne -- her enemy...
He was Stephen, a man who used honey in a land of warriors, who sweetened whatever cup would toast his claim to the throne.
And the only obstacle in his path toward ruling all of England and Normandy was Henry's daughter, his own cousin, his one true love.
Forever to fight, forever to love, they were...
The Passionate Enemies.
William I William II Henry I Stephen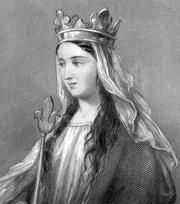 Matilda of Flanders
King William I (1027-1087) illegitimate son of Robert I Duke of Normandy and Arlette, a tanner's daughter. married Matilda of Flanders (1031-1083)
they had four sons; Robert II, Richard, William II and Henry I, and six daughters; Cecily, Adelicia, Adela (mother of Stephen I), Agatha, Constance and Matilda
William II (1060-1100) did not marry
Henry I (1068-1135) married first Matilda Dunkeld (1079-1118)
they had one daughter; Matilda, and one son; William
their daughter Matilda became Empress Matilda (1102-1167) (Passionate Enemies), mother of Henry II
Henry I then married Adelicia of Brabant (1102-1151)
no children
Stephen I (1097-1154) married Matilda of Boulogne (1095-1151)
they had three sons; Baldwin, Eustace, and William and two daughters; Matilda and Mary