Myself My Enemy Vol. 1
December 1983, Robert Hale
This is the story of a tragic queen told as though by herself, during what is undoubtedly the most turbulent period of English history.
Henrietta Maria, whose father was murdered a few months after her birth, grew up in a court of intrigue which was constantly on the verge of conflict until the arrival of the future King of England on a romantic visit to Spain.
Eventually Henrietta Maria herself was betrothed and embarked on the stormy years of a marriage which seemed doomed to failure, overshadowed by as it was by the malevolent Buckingham.
But out of these tempestuous beginnings grew one of the greatest love stories of all times. Henrietta Maria - fiercely loyal in love, impetuously ruthless in hatred - stood beside her husband through his tragic progress. This is an account of a most successful yet disastrous marriage between a man of honor determined to do his duty as he saw it, and a woman entirely devoted to helping him. Blindly they blundered through the years, watching the fall of Strafford and the rise of men such as Cornwell, Hampden and Pym, unaware even of the spies in their own household; and so came the inevitable march toward war, Englishman against Englishman, Cavalier against Roundhead, the sequel of which was played out on a cold January day in Whitehall.
At the center of the disaster stand the King with his unswerving belief in the divine right of kings and his Queen, warmhearted, passionate Henrietta Maria who was her own greatest enemy and that of those whom she loved best.
There is that other Charles, witty, calm, inscrutable, refusing to be influenced by his mother, coming back to claim his rights; there are Mary, James, Henry and Henriette, all determined to go their own way; and so Henrietta Maria must retire to the chateau of Colombes, a lonely, doubting woman brooding on the past ask asking herself "How much was I to blame?"
Queen of this Realm Vol. 2
January 1984, Robert Hale
Elizabeth I, denounced as a bastard, imprisoned in the Tower of London by her fanatical sister, the iron-willed daughter of Henry VIII nevertheless was certain it was her destiny to become Queen of England. And when the crown finally came to her, she swore to uphold it, to pledge loyalty only to her subjects, to submit to no man - not even Robert Dudley, the greatest love of her life.
Through wars, intrigues, and plots against her life, Elizabeth ruled with a shrewdness and intelligence that earned the respect of her advisors and the complete devotion of her people. Elizabeth's story is that of a daring, brilliant woman whose legend is as vital as it was in the turbulent, colorful times she lived.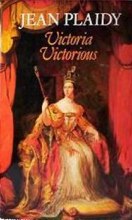 Victoria Victorious Vol. 3
October 17, 1985 Robert Hale
The young Victoria led a sheltered life, dominated by her mother and governess. As she grew older, her own strong will led to battles with her mother and Lord Conroy, who tried to rule the Princess' actions. Freedom came on the morning when, at eighteen, she was told she was Queen of England.
Always, there were men to guide her -- at first there was the handsome, devoted Lord Melbourne, then Albert, the love of her life; later there was Disraeli and John Brown.
It was a momentous reign, the time of Palmerston, Gladston and Florence Nightingale, the Crimean War, the Indian Mutiny and the Boer War; the British Empire had reached its heights. Victoria saw her children scattered through the royal houses of Europe as she lived to become --Victoria Victorious.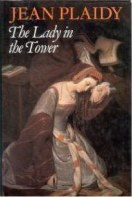 Lady in the Tower Vol. 4
October 23, 1986 Robert Hale
Anne Boleyn was destined for distinction. The possessor of a quality more exciting than beauty, she was soon noticed and desired even by the King himself.
But Henry VIII was sometimes sentimental and always ruthless, a man with absolute power over those around him -- including Anne, impetuous, reckless, heading for danger and realizing it only when it was too late...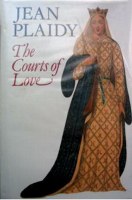 Courts of Love Vol. 5
November 12, 1987, Robert Hale
Raised in the pleasure-loving Aquitaine duchy of France, where music, poetry, and love were all, Eleanor was married young to Louis VII, King of France, and then to the great Plantagenet, Henry II of England. She was passionately engaged in life, as a crusader against the Turks, as the mother of two kings - Richard the Lionhearted and wicked King John - as a shrewd politician, and as her husband's prisoner for sixteen long years. Told by Eleanor herself, this story is a medieval tapestry come to blazing life, with unforgettable scenes of war, betrayal, adulterous passions, heartbreak, love, and murder.
In the Shadow of the Crown Vol. 6
January 1989, Robert Hale
Daughter of the notorious Henry VIII, Mary Tudor's future as heir to the throne seems assured - until the King falls in love with Anne Boleyn, divorcing Mary's mother and thus precipitating England's break with the Church of Rome.
Refusing to denounce her Catholicism even if it means losing her future throne to her half-sister Elizabeth, Mary becomes a pawn in the politics of the court, suffering house arrest, near imprisonment and threats of death, only to find herself one day crowned Queen of England.
When her violent policies toward Protestants earn her the enmity of her subjects, Mary finds she must struggle as hard to keep the throne as she did to aquire it. Wanting only to be a good queen, knowing of the nickname that will outlast her, Mary asks herself how different her life might have been had she not been born in the shadow of the Crown.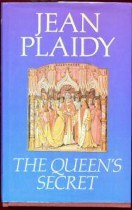 Queen's Secret Vol. 7
January 1989, Robert Hale
The marriage of Katherine of Valois to Henry V was a happy but tragically brief union which ended with his untimely death.
Her baby son, the new King, was taken from her and she was forbidden to remarry. The young Queen was alone and desolate. But when she met handsome Owen Tudor, her life was changed forever as she was drawn into a love which was dangerous but irresistible...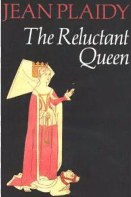 Reluctant Queen Vol. 8
October 1990, Robert Hale
Born into the turbulent years of King Henry VI, it was at her father's castle that Anne Neville first met and befriended Richard, Duke of Gloucester, sent there to learn the arts of chivalry and war.
Anne's father, the great Earl of Warwick, had set Richard's brother, Edward IV on the throne, and was his strongest supporter until the King's marriage to a member of the rapacious Woodville family.
Forced into a situation repugnant to her, facing a future with a man whom she already feared, Anne's attempt to escape a life not of her own choosing was to draw her into terrible danger...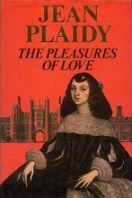 Pleasures of Love Vol. 9
January 1991, Robert Hale
Newly married to King Charles II, Catherine of Braganza has left her sheltered upbringing in Portugal to become part of the notoriously licentious English court. She soon falls deeply in love with her charming, witty husband - but brought abruptly face to face with the true state of affairs at court she becomes overwhelmed by despair.
Catherine finds enemies are everywhere: Rivals for the King's affection such as Barbara, Lady Castlemaine, beautiful, simple-minded Frances Stuart and merry Nell Gwynne - and more deadly adversaries, like the venomous Titus Oates, determined to destroy her.
Despite all this, and despite Charles's humiliating neglect, Catherine's love prevails through disillusion and despair - to triumph in the end.
William's Wife Vol. 10
October 31, 1992, Robert Hale
Mary, daughter of James II is innocent, unworldly, devoted to her adored father. Nothing in her happy, sun-filled childhood can prepare her for the cruel betrayal to come...
For Mary is to marry dour, distant William of Orange, whose only interest is in the crown she can bring him. She is torn from her loving family and sent to the Hague, a court filled with intrigue and deceit. Here, she has no one to support her but Elizabeth Villiers, her lady-in-waiting, whose rivalry for William's affections will cause her nothing but anguish.
The courageous Mary is determined not to despair, but the ultimate test is to come - the conflict between William and James for the crown of England. Mary has to make a choice - is it more important to be James's daughter or William's wife?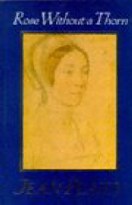 Rose Without a Thorn (Kisses of Death) Vol. 11
September 1993, Robert Hale
A young noblewoman in the ruthless Tudor era, Katherine Howard's life was far from easy. Left to the mercy of her neglectful grandmother, twice betrothed by the age of fifteen, she finds happiness at last with her beloved kinsman, Thomas Culpepper, but those around her have other plans for her future...
At Hampton Court, King Henry VIII has rejected his plain wife, Anne, and Katherine's dainty charm quickly attracts him. Overwhelmed by the attentions of this powerful man, Katherine is blind to his true nature, until she discovers that her new husband will not tolerate playful flirtation. Surrounded by enemies, her unhappy past closing in on her, innocence is to be Katherine's final downfall...
*this book had the intended title Kisses of Death, but it was changed before publication.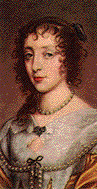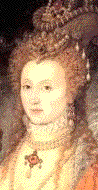 Henrietta Maria Elizabeth I Victoria Anne Boleyn Eleanor of Aquitaine Mary I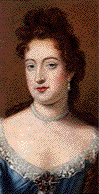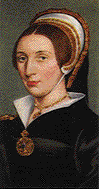 Katherine of Valois Anne Neville Catherine of Braganza Mary II Catherine Howard
Queens of England Series in Historical order
The Courts of Love
The Queen's Secret
The Reluctant Queen
The Lady in the Tower
Rose Without a Thorn
In the Shadow of the Crown
Queen of This Realm
Myself My Enemy
The Pleasures of Love
William's Wife
Victoria Victorious