Novels by Jean Plaidy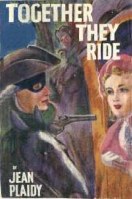 Together They Ride
1945 Swan
The story of two people who lived and loved in the dangerous cruel exciting days of the late 18th. century. There was Kate, daughter of the rich squire; and Trelory, son of a poor fisherman. Trelory who came of an oddly mixed family, who had Spanish blood in his veins, and whose hopes and ambitions had roots in the past. They met, though it was dangerous that they should meet. They loved, though it was madness that they should love. They eloped - and that was the greatest folly of all. This is the story of days when men's lives were cheap, when the rich were masters and the poor were poor indeed. When men lured ships on to the rocks for the sake of their rich cargo; and highwaymen were met with on the roads. Kate - wilfull, haughty, passionate Kate; Trelory, going boldly to his goal; these two are in the centre of a vivid picture of those cruel yet glamorous days.
Her first under the name of Jean Plaidy.
Beyond the Blue Mountains
1947 Appleton Century Crofts
Set in the England and Australia of the late eighteenth to early nineteenth centuries, this is a compelling and convincing story told with vivid authenticity.
The adventures of the bold and reckless Carolan - in the East End, in Newgate Jail, and aboard the prison ship transporting her to Australia - forcefully recreate the perversion, vice and cruelty of that age.
Once in Sydney Carolan, now a convict maidservant, seeks freedom and status. But the way she chooses to ensure her future is such that it will haunt her for the rest of her life...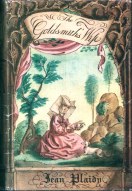 The Goldsmith's Wife (King's Mistress)
1950 Robert Hale
*This book was published by Pyramid in paperback under the title The King's Mistress
The Goldsmith's wife is Jane Shore, favorite mistress of the greatest lover in English history, King Edward IV.
Wayward, passionate, goodhearted and loved by many men, Jane passes from a background of trade in Cheapside and Lombard Street, to rule the brilliant, profligate court, the morals of which are set by its amorous King. Her attempted abduction by Lord Hastings, her seduction by the merchant who is really the King in disguise, her flight from the goldsmith's house to the King's court - all this is but the prelude to her colorful and exciting story.
And although Jane is the central figure, her life is necessarily closely interwoven with those of many fascinating personalities of the court.
All these famous characters form a background for the goldsmith's wife, and among these people moves Jane - a dainty, golden-haired figure, the loveliest and the merriest lady of the court. She is seen gracing royal banquets, laden with jewels; and doing penance through the streets of London, with only a kirtle and her golden hair to cover her. She is seen begging favors for others from the King, and begging alms for herself in the streets.
Humble mercer's daughter, goldsmith's wife, King's favorite, publicly proclaimed harlot, prisoner and beggarwoman, hers is a story of amazing contrasts set against the colorful, dangerous background of fifteenth century London.
Daughter of Satan
1952, Robert Hale
Even Tamar's mother believed the child had been forced on her by the Devil, and Tamar grew into a wild and beautiful girl in an Elizabethan world of superstition and intolerance.
Two men caused passion and piety to war within her - Bartle Cavill, lusty gallant home from the Spanish Main, and Humility Brown, the Puritan.
Tamar braved fanaticism and persecution, plague and tempest, pirates and savages, to leave Plymouth and look for freedom and love in the New World - where her old sins would not be remembered...
Novels originally published by Kathleen Kellow
Lilith
June 1967, Robert Hale
Even as a child, Lilith Tremorney is ambitious. Her grandmother has filled her with stories of her own salad days - a long ago season of romance, warm clothing, and plenty of food to eat. Lilith is determined that she will never live her life as a servant - especially since she knows, although no one speaks of it, that the old squire of Leigh House is actually her grandfather.
To young Amanda Leigh, the legitimate heiress to Leigh House, the bold little housemaid is both alarming and admirable. Despite the gulf of privilege that separates them, the two girls become secret friends. And from that friendship spring adventures that will take Lilith and Amanda far away from their beloved Cornwall to the heart of London, from childhood to adulthood, from innocence to experience. And from love and loss to a world where everything is possible . . . because Lilith makes it so.
It Began in Vauxhall Gardens (Melisande)
January 1968, Robert Hale
*This book was published by Fawcett under the title Melisande
Green-eyed Melisande was as innocent as she was beautiful. And she knew no more about the strange English life her guardian was taking her to than she did about the mysterious circumstances or her birth. Yet after the strictness of the French nuns who had raised her, the promise of a new life in a great mansion beckoned thrillingly.
Once Melisande arrived there, not all was bliss. If only Caroline, the young lady whose companion she was to be, were friendlier. If only Caroline's devastatingly attractive fiancé were a bit less so. If only she had someone to guide her through the pitfalls of this new life. But as Melisande is destined to learn, there is no one at all to protect her from her innocence, nor from the temptations that come with her great beauty.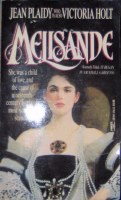 Melisande (It Began in Vauxhall Gardens)
It Began in Vauxhall Gardens, which was originally published under the name of Kathleen Kellow, was published by Fawcett Crest in 1993 under this title.
Milady Charlotte
1998, Robert Hale
Based on fact this is the dramatic story of Charlotte Walpole, who left her comfortable Norfolk home to act at Drury Lane, married Sir Edward Atkyns, and attempted to rescue Marie Antoinette from the guillotine.
It is also the story of Homer, the passionate, impulsive girl from the Cornish parsonage who, unwanted in her own home, joins her distant relation, Charlotte, in London.
Involved with them are Richard Danver, in the service of the British government; Jean Pierre de la Vaugon, serving the French government, the aristocrat who cannot hope to escape the attentions of the mob; the lecherous Sir Edward; and Sophie, the young girl for whom the guillotine is waiting.
The story, moving swiftly from the Cornish parsonage to London, Norfolk, Lille and Paris, tells of the loves and adventures in the lives of two very brave women. It will delight all readers of Jean Plaidy's memorable novels.
Historical Fiction Originally published by Ellalice Tate
The Scarlet Cloak
1969, Robert Hale
It was a world turned upside down with the Queen Mother of France making martyrs out of innocent Huguenots, King Philip of Spain spreading fear and torture with his Inquisition, and Queen Elizabeth dispatching spies to every corner of England.
Yet in peaceful Andalusia, a splendid wedding was only days away. And although the aristocratic bride, Isabella de Ariz, would rather have wed dashing Blasco instead of his serious older brother, Domingo, life there was happy. Then a savage English pirate swooped down, taking Isabella away into captivity - as the old world seemed to suddenly end, never to return.
Isabella vanished into troubled England. Blasco set forth on a dangerous private errand for King Philip. Domingo entered the Priesthood, and began training for certain secret responsibilities. When next these three young people met, everything would be radically altered, themselves most of all...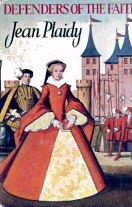 Defenders of the Faith
1971, Robert Hale
This is a powerful story of the troubleous days when Tudor succession was in dispute. The chief characters are two contrasting cousins - one daring, brave and adventurous; the other quiet, reserved and thoughtful. But each has his own kind of courage. It is set in Chelsea, Kent, and Spain, and is a vivid portrayal of a family which came to know the wrath of the Spanish Inquisition.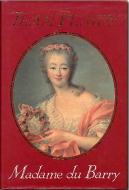 Madame Du Barry
1994, Robert Hale
Marie Jeanne Bécu began life as the illegitimate daughter of a humble cook, but by the time she was twenty-three she had become Madame du Barry, the official mistress of King Louis XV of France. By virtue of her exceptional and seductive beauty, her enchanting wit and her unfailing good nature, she came to govern the monarch and all around him.
While the king is alive, she can endure the jealousy and resentment of others who are constantly seeking to usurp her place. But once King Louis is dead, it is clear that she is no longer welcome at the French court. Yet there is far worse to come, for in 1789 the French Revolution casts its long shadow and Madame du Barry's life is in mortal danger...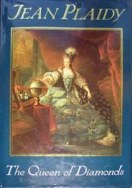 The Queen of Diamonds
1995, Robert Hale
The affair of the Diamond Necklace shook the throne of France and, some say, precipitated the French Revolution and so helped to bring Louis XVI and Marie Antoinette to the guillotine. But why did these fantastic and ultimately sensational events fail so neatly into place? Why should a prince of the Royal House of France become so credulous and without question play the almost incredible part prepared for him? Why was an ambitious and predatory woman allowed to steal that famous piece of jewelry that represented a fortune? Who were the secret instigators of the plot?
In this novel Jean Plaidy offers one solution to a historical mystery, the motives behind which have long puzzled students and amateur detectives of history.
The King's Adventurer (This Was a Man)
July 1996, Robert Hale
*This book was published under the title This Was a Man by Ellalice Tate
From his earliest boyhood, John Smith wanted to go adventuring over the sea. He followed his dream through Europe, even to fighting the Infidel and serving a cruel Turk as a slave. Yet all that time he knew that something else awaited him, over the seas yet again. This destiny led Captain John Smith to the new colony of Virginia, where he was to find joy and bitterness, fulfillment and disaster, where he was to be a distrusted Paleface and a demigod, and where he was to be saved from death by the beautiful, half-wild Pocahontas.
Nonfiction
A Triptych of Poisoners
May 26, 1970, Robert Hale
What makes men and women commit murder? Is it environment and upbringing? Or is it some characteristic unaffected by surroundings and contacts?
In this triptych, the author has sought to answer these questions by an analysis of the lives of three notorious poisoners, each guilty of more than one murder, and living in different periods of time.
First is Cesare Borgia, most notorious of all poisoners, who, among his many crimes, was suspected of the murder of his brother-in-law. Sadistic and sinister, even for fifteenth-century Italy, his brief life was one of the most evil ever lived. Was he to blame for his sins? Or does the blame lie in an indulgent parent and a barbaric age?
Second is Marie d'Aubray, Marquise de Brinvilliers - beautiful, reckless poisoner of seventeenth-century Paris. Marie and her lover Sainte-Croix sought to discover the lost secrets of the Borgias, that she might remove those who stood between her and her family fortune. Visiting the Paris hospital as a Sister of Mercy, experimentally trying out her concoctions on the patients, Marie was indifferent to the sufferings of others.
Last comes Edward Pritchard, the Glasgow doctor. Living midway through the Victorian era, the doctor was as knowledgeable in the art of poisoning as his predecessors and had no compunction in removing any who stood in his way.
In these studies Jean Plaidy discloses the similarity in all three and asks: Whose is the guilt?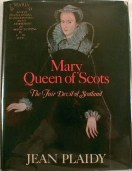 Mary Queen of Scots: Fair Devil of Scotland
October 2, 1975, Robert Hale
Mary Queen of Scots is the most romantic and enigmatic queen in history. When she came to Scotland from a life of cloistered luxury at the French Court she was pitched into the center of a political storm. She found Scotland barbaric, hostile - and fascinating. When her marriage to the arrogant Lord Darnley ended in murder, and Mary was abducted by Bothwell, the brutal, ambitious Scottish lord who had plotted Darnley's death, she was on the road that was to lead her to the execution block.
Others
King's Pleasure (Murder Most Royal)
This is the American title for Murder Most Royal. It was published by Appleton Century Crofts in 1949, but the parts about Catherine Howard are not in this one. Other than that, the text of both books is identical. Jean Plaidy apparently changed the title when she added the parts about Catherine.
The Unholy Woman (The Italian Woman)
The Italian Woman, written about Catherine de Medici, was published in 1954 by Harlequin under the title The Unholy Woman.
The King's Mistress (The Goldsmith's Wife)
The Goldsmith's wife, written about King Edward IV's mistress Jane Shore was published by pyramid under this title in 1952 and 1971
Mary Queen of Scotland: The Triumphant Year (Royal Road to Fotheringhay)
The Royal Road to Fotheringhay was published in large print by Ulverscroft in 1974 under this title.
Young Mary Queen of Scots
1963 Roy Publishers
In danger of kidnapping, betrayal and imprisonment, five-year-old Mary had to flee from Scotland.
Safe from the wrath of England, the lovely refugee grew up among the gaiety, intrigues and hidden perils of a glittering French court.
Betrothed to the frail Dauphin, torn between her duty to Scotland and her liking for France, Mary found many to love and some to hate -- especially Catherine de Medici, the cruel Queen Mother...
Young Elizabeth
1969 Roy Publishers
Now in favor, now out. Accepted by three stepmothers, a thorn in the conscience of her father, King Henry VIII.
From the age of eight, the mercurial young Elizabeth found royal courts were dangerous places if one wanted to keep a head on one's shoulders.
As she grew up, so did the dangers surrounding her increase. Elizabeth knew that one false step could lead to Traitor's Gate and the block...
Meg Roper; Daughter of Sir Thomas More
1961 Constable & Co
The world in which Meg Roper grew up was not merely a world of adults; it was a world of the greatest personages of Renaissance England in the early 16th century. For Meg's father was not just anybody: He was Sir Thomas More, the very center of the intellectual and political elite, scholar, lawyer, diplomat, politician, the King's chancellor, defender of his own faith, ascetic and worldly wise, compassionate, yet unwilling to compromise his own beliefs. The whole history of an age passed through the More household -- imagine a house guest such as Erasmus or Holbein -- or a dinner guest like Henry VIII! Imagine being a firsthand observer of the King's divorce, his subsequent break with the Catholic Church, the Lutheran Reformation and the merciless punishments for heresy, More's own fight with the King and subsequent imprisonment and execution.
In a large and lively household marked by the warmth and humanism or the More's family central figure, Meg was her father's favorite daughter, closer to him than all the other children, like her father a scholar, a firm advocate of mercy, justice and love of living, as well as a perceptive noter of what went on round her.
Captain John Smith Pocahontas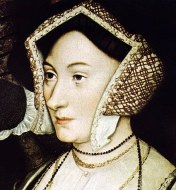 Young Mary Queen of Scots Young Elizabeth Meg Roper